Endorsements
"Mike Bloom possesses a courtroom demeanor consistent with that of a trial judge. He also has the breadth of experience to preside with knowledge, integrity and fair judgment over the entire spectrum of cases that come before a Circuit Court Judge...."
Jerry Gibson
Captain, Forest County Sheriff's Department (retired)
Dean of Instruction, Nicolet College (retired)
(Read more from Mike's supporters here.)
MY JUDICIAL PHILOSOPHY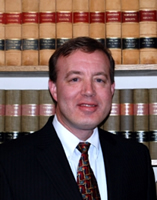 My judicial philosophy is that a circuit court judge must apply the law faithfully, find facts fairly, and exercise discretion justly.
Apply the Law Faithfully
The duty of a judge, first and foremost, is to apply the law to the facts of each case. Statutory laws are enacted by the legislature and administrative regulations are promulgated by state agencies pursuant to statutory authority. Federal and state constitutional law has been interpreted in the decisions of the United States and Wisconsin Supreme Courts and the federal and state appellate courts. A circuit court judge is bound to apply statutes and regulations as written and to follow the decisions of higher courts when applying constitutional law and common law principles.
Find Facts Fairly
A central function of a circuit court judge is to receive evidence and make factual findings based on that evidence. A circuit court judge must confine the basis of his or her factual determinations to the evidence lawfully presented in court. When making factual determinations, a circuit court judge must strive for fairness by searching for the truth.
Exercise Discretion Justly
In some cases, the facts or the law (or both) compel a circuit court judge to reach a particular result. In other cases, the law provides guidelines that a circuit court judge must follow, but allows the judge a certain amount of discretion as to the details of the final decision. When the law bestows a judge with such discretion, a circuit court judge should always exercise that discretion with the ultimate goal of achieving justice.
If I am elected to serve as an Oneida County Circuit Court Judge, I will faithfully apply the law as written, will find facts fairly based on the evidence presented in court, and will exercise discretion with the ultimate goal of achieving justice.